Book Now
Dao by Dorsett West London
---
Dao by Dorsett West London
Dao by Dorsett West London; tailored from arrival.
Located adjacent to Dorsett Shepherds Bush hotel, Dao will comprise of 74 high quality serviced apartment units overlooking Shepherds Bush Green, just a mere 5-minute walk away from Westfield London and the vibrant White City area. Complete with an exciting entertainment space, a restaurant and a café.
Dao symbolises who we are, what we do, and how we do it. We offer an antidote to the identikit, inflexible hotel formulas of the past. Instead, we are Social; creating opportunities for shared encounters inside our aparthotels and within our local neighbourhoods. We believe in a Custom Fit; so that guests can enjoy the best of our guest-first mentality, attending to their particular needs and preferences. We are Harmonious; seamless guest experiences are enhanced with the perfect balance of benefits, activities and opportunities to explore a new model in travel.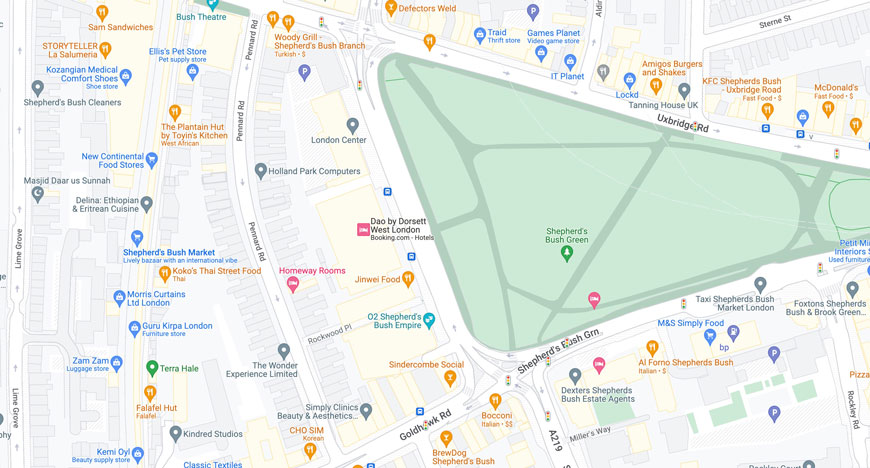 56 SHEPHERD'S BUSH GREEN LONDON, W12 8QE
Exclusive Benefits to Members
Why Book with Us
More than just a bed to crash into. Our aparthotels allow you to enjoy the best of serviced apartment living whilst enjoying the service and facilities you'd expect of a hotel. It's all in the details. You'll have your own kitchenette, weekly housekeeping and hampers filled with homey essentials. You can connect and mingle at our co-living spaces and social hours or relax in the privacy of your own space.
COMMUNITY
Insider access to the neighbourhood's friendliest fitness studios, local cafes and must-try restaurants. Sometimes just bed and breakfast, simply won't do. Whether you're here for business, leisure or to visit friends and family, we all have our own morning rituals, hobbies, interests and quirks. You want to live and experience instead rather than just visit. Our Dao community is ready to welcome you with access to everything we love doing in our city.
SUSTAINABILITY
The Dao Way is all about finding balance – both in the lifestyle we lead and the way we choose to travel. Dao by Dorsett is committed to being more eco- and socially-conscious. Our aparthotels in London have solar panels installed on the roof for energy efficiency.
PET FRIENDLY
Your favourite furry companions are welcome. Because pets really are our best friends, Dao welcomes your four-legged companion to travel with you in true London style. Welcome treats, a cosy bed, toys, litter boxes – let us take care of pampering your pets so you can feel right at home. Terms & Conditions apply.