Book Now
FAQ
---
Account
What is FAR MORE Rewards?
FAR MORE Rewards is a corporate booker loyalty programme designed to reward executives who book accommodation on behalf of their companies at Far East Hospitality's participating hotels and serviced residences in Singapore and Malaysia. Participation is free and is subject to qualifying criteria during sign-up.
What are the benefits of joining FAR MORE Rewards?
With FAR MORE Rewards, you will enjoy the following perks:
Earn FMR points by booking accommodations, meetings and events on behalf of others at our participating hotels and service residences.
Please refer to below FMR points reward structure (based on per room night):

Redeem FMR points for rewards ranging from hotel stays, retail and dining vouchers, merchandize and entertainment, and much more. See rewards
Access to exclusive member-only events, offers and promotions and many more. See promotions
What are the requirements to become a FAR MORE Rewards member?
To qualify, your company needs to have a corporate contract with Far East Hospitality participating Hotels and Serviced Residences (See
participating properties
). Please contact our sales team for enquiries on corporate rates for your company.
Upon signing up, how soon will I receive the confirmation email with my login details?
You will be notified by email within 5 business days about the status of your application and login details if successful.
Will I be able to receive FMR points for reservations made prior to me being a member?
You are encouraged to sign up prior to making reservations as there will be no backdating of points for bookings made prior to confirmation of the membership.
Why must I produce a Written Approval from the company upon request by FEH?
This is to confirm that your company is aware of your participation in the programme and has authorized you to submit hotel bookings and make redemptions on behalf of the Company. FEH reserves the right to terminate any membership without proof of company's written approval.
What happen if I forgot my password to login?
You may reset your password via this link
here
and an email with your temporary password will be sent to you.
What is the duration of my membership?
Membership has a 5-year validity period from the date of creation unless the account is terminated or lapsed. To renew the membership, you need to have at least one booking transaction posted to your account in the last 2 years prior to expiration.
Awarding of FMR Points
How many FMR points will I earn?
FMR Points will be awarded based on room categories for hotels and rental for service residences.
Please refer to below FMR points reward scheme (based on per room night):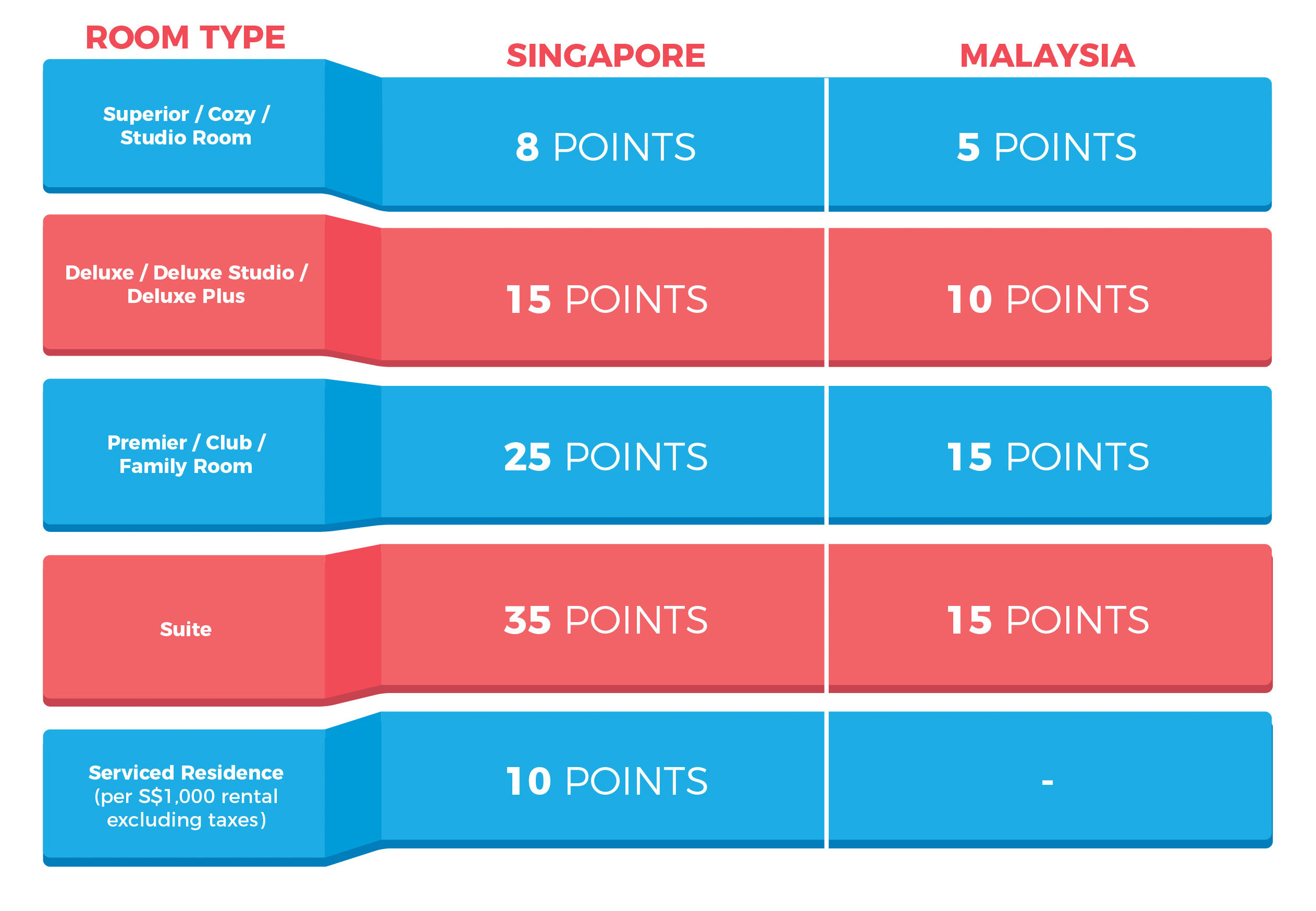 How can I make sure that FMR points are credited to my account?
Simply quote your membership number during reservations to earn FMR points. Failing which no points will be credited into your member's account.
If I forgot to quote my membership number, can I request to tag the bookings to my accounts after the booking is made?
Yes, we are able to tag the bookings to your account, provided that the guest has not checked out.
What happen if I have missing bookings?
Any missing bookings reported within 30 days of the guest check-out date will still be credited with points. However, if exceeded 30 days then no points would be credited. Members are advised to keep records of their reservations for at least two months for verification purposes. You may report the missing points
here
which you need to login to your FAR MORE Rewards account
Is there an expiry to my points?
Yes, all points earned are valid for 12 months from the month of award.
My points were being forfeited (expired), can I have them reinstated?
Due to strict audit procedures, all forfeited points will not be reinstated.
Can the points be credited for any walk-in or last minute reservations?
Yes, as long as the membership number is provided and at qualifying rates, i.e. Corporate rates and any rates higher. No points will be awarded for complimentary stays, barter arrangements and bookings made via travel agency (including online travel agency).
How often are points updated into my account?
Points will be credited to the member's account within 3 business days after the guest check-out for hotel stays. For Service Residences stays, points will be updated on a monthly basis.
Where can I check my points?
Members may login to the FAR MORE Rewards website
here
or via mobile App (
download here
) to view the latest updates on their account balance. Monthly statements will also be sent via email to members every monthly when members opt in to the mailing list.
Who shall I contact should I find discrepancy in my points?
Please drop send us an email at
[email protected]
or via "Report Missing Points" tab in the FAR MORE Rewards website
here
indicating your name, membership number, company, guests' names, hotels stayed in, check-in/out dates and booking confirmation numbers.
Can I claim FMR points for my own personal stay at any of the participating properties?
Yes, you may earn FMR points for your personal stay so long as the booking made is based on corporate rates or higher. Bookings made at discounted, promotional rates or via third party websites will not qualify for FMR points.
I had resigned from my company; will I be able to retain my membership and transfer the FMR points to the new company?
Points are not transferable, you will need to redeem all your existing points and close your membership account once you resigned from the company. You will need to re-apply for the membership under your new company and a new membership number will be issued to you
Redemptions
What can I get with my FMR points?
We have a wide variety of rewards offered such as hotel stays, retail & dining vouchers, merchandize, and entertainment options, and much more – see
rewards
From the time of my redemption, how long will it take till I receive my voucher(s)?
You will receive your vouchers within 3 to 4 weeks on average, up to a maximum of 6 weeks. This includes time required for processing your request and delivery to your billing address by normal surface mail.
I am based in Malaysia and I want to redeem rewards available in Singapore, can this be done ?
Yes, this is possible if you can provide us a Singapore based mailing address. Alternatively, you may wish to collect the redemptions from our stipulated office in Singapore. Vice Versa, same concept applies if you are based in Singapore and wish to redeem rewards only available in Malaysia.