Book Now
Getting Here
---
We offer complimentary round trip transfer (all year round) to and from Krabi Airport (or on Lanta island).
For this, we highly recommend you to book a flight that lands at Krabi Airport by 16:00 pm.
For safety reason, we will only operate car transfer from Krabi Airport to Pimalai for guests who arrive Krabi Airport after 16:00 pm.

Please look for our Airport Representative who will hold a PIMALAI signboard.
He is located just after the luggage collection area and will assist you with your transfer.
Transportation from Krabi Airport is a journey of approximately 2 hours - or less
- on shared mini van and shared speedboat operated by the resort, for its guests exclusively.
Should a private limousine car is required for the road journey from Krabi Airport (or Phuket Airport) to Pimalai Jetty,
where to board Pimalai boat, a surcharge will apply.
Please scroll down to read the Terms and Conditions below.
Our daily complimentary boat transfer schedule
(Approximate Time)
| | | | | | | |
| --- | --- | --- | --- | --- | --- | --- |
| Departing Mainland to Resort | 09:00 | 11:00 | 12:45 | 14:45 | 16:15 | 17:30 |
| Departing Resort to Mainland | 06:30 | 08:00 | 10:00 | Noon | 14:00 | 16:00 |
Please ensure to reconfirm your arrival details with our
reservation
so your journey to Pimalai will be arranged in the most effective way.
Other guests may arrive from different places and by different means, and we coordinate all guests to arrive at Pimalai Jetty as close as possible to the boat scheduled departure. There may be a small waiting time at the jetty for the boat departure, but rarly more than 30 minutes.
From November to April
The resort boat docks along side a floating jetty which can sometimes be a little bit wobbly;
we therefore recommend to wear sport / casual shoes.
From May to October
We will use our speedboat to cross over from our Pimalai mainland jetty to Koh Lanta Island - and then drive for about 45 minutes straight to the resort.
We try to operate the transfer boats as near as possible to the above schedule.
If there is a delay, it is most likely due to interference by mother nature.
We ask for your patience and assure you it is our intention to transfer you to and from the resort safely,
and with minimum delay.

Not coming from / or going to Krabi airport? Please contact reservation for further details.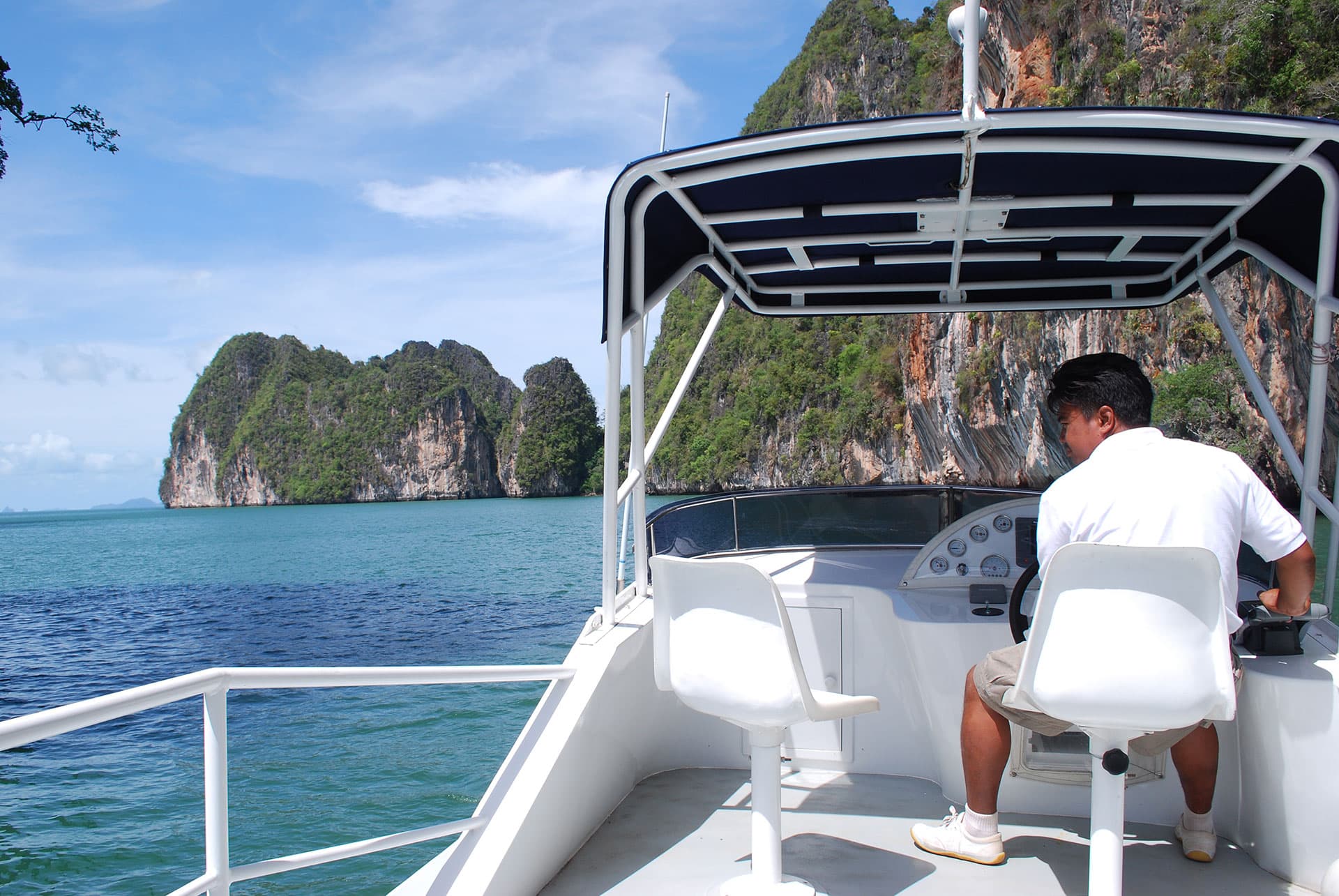 Terms and Conditions

Complimentary transfers - from/ to Krabi airport or on the Koh Lanta island – only apply on the days guest check in to and check out of the resort.
Should you need to be collected at the Koh Lanta island pier (Saladan Pier), we would kindly request that you send the following details to us 24 hours in advance by email or by phone ( +6623205500 / +6675607999 ):

1) Ferry company name you will be using
2) The departure time from your port of origin
3) The name of your port of origin (Krabi / Phi Phi / Lipe / Phuket)
4) The estimated arrival time at the Saladan Pier

During daytime, and on rare occasions, we may have to cancel the boat trip at any time if it is determined that there are adverse weather or sea conditions, or exceptional circumstances. We will then take a different route to get you to the resort. We may also use the public ferry facility (20 minutes crossing time) and then drive for about 40 minutes right to the resort. In those special circumstances the transfer may then take an additional 15 - 20 minutes travelling time.
Very unfortunately & essentially for safety reasons we are not able to operate the resort boat transportation during darkness - mainly from 06:00 pm. to 06:00 am. For a very late arrival, you should know that WE CAN ALWAYS get you to the resort as we are able to rent the use of the public ferry even after normal ferry operating times. (the ferry normally stops regular service at 10:00 pm & return back in operation at 06:00am. – please note that a transfer surcharge for hiring the ferry outside the normal operating hours applies for that service and will be added to your room account – that fee is currently 2,000 Baht though may be changed by the ferry operator without prior notice.)
From mid October to April, the resort boats dock along side a floating jetty which can sometimes be a little bit wobbly; we therefore recommend to wear sport or casual shoes.
Departing from the resort, we use the same route as on arrival, though we allocate extra travelling time to ensure that you are well on time to catch your flight home.
Check in – After 02:00 pm.
Check out – Before 12:00 noon
We will always try to accommodate an early Check In (that is before 02:00 pm.) and/ or a Late Check Out (that is after 12:00noon) when requested. Though at certain times of the year, we are unfortunately unable to do so as the resort's occupancy level is then extremely high. If a guest's allocated accommodation is ready before 02:00 pm. , we will make every effort for this guest to move into his/ her accommodation before 02:00 pm. ; If a guest's accommodation is still available after 12:00 noon (e.g; no immediate new arrivals expected) we will assist then with the use of this accommodation for a limited extra time after 12:00 noon. Whenever this is not possible (either at check in time/ or check out time), we will try then to allocate a temporary accommodation if available; though sometimes during the year this may not even be possible