Book Now
CLEAN & SAFETY PLEDGE
---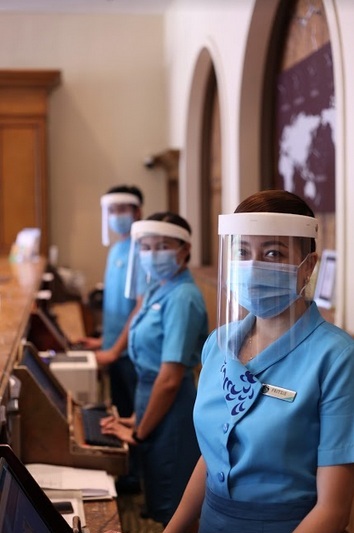 Stay with confidence as we take every measure to keep you safe.

As a family resort, your health and safety, as well as our employees, are our utmost concern
so you and your family can enjoy a worry-free stay. It is our pledge to serve you even better
by increasing our levels of cleanliness, sanitation, and services.
Wearing of masks and other personal protective equipment (PPE) is a must for all hotel staff at all times.

Mandatory body temperature check for all hotel staff; and for all hotel guests upon arrival at the airport and at the lobby.

Strict enforcement of social distancing controls in public areas and at counters; reduced capacities in dining areas, meeting rooms, waterpark elevators, and transportation facilities.

Sanitising foot baths to disinfect your footwear at the lobby entrance, as well as at the employee entrances.

Mandatory regular hand washing or hand sanitising for guests and staff.

Improved check-in and check-out procedure by minimising direct contact with our hotel associates.

Digital and mobile online systems for contactless check-in and check-out process, payment transactions and food menu ordering.

All arriving guests are required to fill-out a health declaration form upon

check-in.

We have imposed a maximum capacity per room accommodation to follow the social distancing controls.

Provide all guests with sanitation kits such as face masks, hand sanitizer, disinfecting wipes, and disposable gloves.

Improved thorough cleaning and sanitation protocols in all guest rooms, common areas, comfort rooms, and high-touch surfaces.

Use of enhanced cleaning and sanitation equipment such as mist disinfection and ultraviolet light disinfecting systems.

Install transparent barrier counters and sneeze guards in restaurants to protect guests, employees, food, and beverage from exposure to airborne contaminants.

Dining facilities to implement reduced seating capacity in our full-service restaurants; take-out service is also available.

For laundry service requests, fill out the laundry list with your signature and leave the laundry bag with it outside your room. You may call the hotel operator to notify our attendants
We wish you the best of health and to remain safe as we continue to fight against the pandemic at hand.
Download
JPARK'S CLEAN & SAFETY PLEDGE